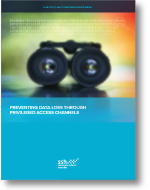 Prevent Data Loss In Your Privileged Channels!
Trust is no longer a guessing game: Gain immediate visibility and control on encrypted third-party access within your network.
Even with SSH there is a fundamental gap in the security of privileged access. Enterprises rarely apply a reliable audit or monitoring capability to privileged user activity. Because these activities are secured by encryption, they are opaque to standard layered defences such as next generation firewalls and data loss prevention systems.
As a consequence, a rogue administrator can steal company information, alter critical data and damage systems – and erase the system logs that record what they did. Outsourcing, business partnerships, and supply chain integration expand the risk out from the organization to third parties, bringing matters of trust, auditability and data loss prevention in a growing role in security compliance and risk management. Privileged access channels are also attractive vectors for external criminal entities to steal information and disrupt operations.
This white paper focuses on how organizations facing these issues of privileged access can effectively balance the challenges of cost, risk and compliance. It describes how privileged access governance can be made minimally invasive, scale to enterprise requirements and most importantly, prevent costly losses.