Risk, Compliance and Cost Implications of Unmanaged Secure Shell
Enterprises Can Be Exposed to Data Breaches, Compliance Violations and Excessive Overheard Costs Resulting From Manual SSH Deployment Processes.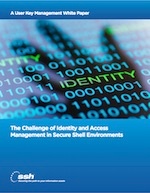 Lower Your Risk of Data Breach, Address Compliance Violations and Reduce Costs With Effective SSH Central Management and Control As organizations deploy SSH across the IT infrastructure the process of key creation and distribution to target servers is repeated many, many times. A large server infrastructure is likely to have hundreds of thousands (sometimes millions) of public keys enabling access to system, user and application accounts. SSH keys can be used by attackers to penetrate the IT infrastructure. The compromise of one SSH key can be leveraged to configure hard-to-notice
backdoors, to bypass privileged access auditing and to perpetrate large scale attacks and data breaches. This white paper discusses how a lack of central management and control can create various negative impacts within an enterprise environment and introduces some Secure Shell best practices that address the risk, compliance and cost problems many organizations face.