WHAT YOU NEED TO KNOW ABOUT THE NIST GUIDELINES FOR SECURE SHELL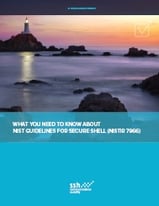 The SSH protocol ships standard with every UNIX, Linux, and Mac system, as well as IBM mainframes. As a result SSH is deployed on millions of servers and is used in approximately 90% of data center environments. NISTIR 7966 details everything an individual needs to know about the SSH protocol and the security of interactive and automated access management using SSH, its wide usage and how to manage the deployments based on industry best practices. This white paper explains the drivers behind NISTIR 7966 and its importance to all layers of management by describing the primary categories of vulnerabilities in SSH user key management and recommends practices for planning and implementing SSH access management. You will learn about:
Why NIST is focusing on SSH
Hidden risks of poorly managed SSH identities
How to adopt best practices for SSH key management
Mapping of NIST 7966 to industry best practice controls
The new NISTIR 7966 guideline from the Computer Security Division of NIST is a direct call to action for organizations regardless of industry and is a mandate for the US Federal government. Download this document to learn how you can assess your environment and use automated SSH key management solutions to significantly decrease risks associated with SSH.