Get Your Copy Today!
SSH: Practitioner Considerations Guidance
Addressing The "Unknown Access Gap" Created By SSH Keys: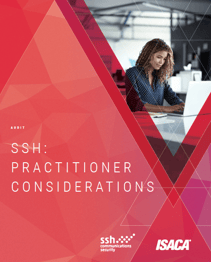 ISACA and SSH Communications Security have partnered in an effort to bring visibility to an unknown access gap - SSH keys. The collective compliance and audit community have been able to leverage best practices in order to deliver a new guidance for compliance and audit practitioners titled "SSH: Practitioner Considerations." Primary contributions for the guidance have come from practitioners, industry experts, and SSH Communications Security.
Given the fact that organizations have their own unique infrastructure, SSH keys remain the common technology deployed across all regardless of industry or geography. As a result of years of unmanaged deployments, out of the box enabled to access and proliferating from one infrastructure component to the next, it is now more critical than ever to bring awareness to SSH keys.
Fill out the form to download the SSH Practitioners Considerations guidance, which highlights from an assurance point of view, the need to assess SSH keys and usage, associated privileged identity, complete logging, and compliance. It also suggests controls, configuration options and other techniques to ensure robust and compliant management of SSH keys. Moreover, it provides a clear direction on why and how SSH keys need to be part of the compliance/audit/governance assessments – A key part of the audit program!!